Hello SCOM enthusiasts. This is an announcement that we will be doing a webinar with our friends from SCOMathon about SCOM 2022 migration.
On Tuesday 27 September at 4 PM CEST, we will be presenting a webinar for the SCOMathon Coffee Break sessions. The topic is going to be about SCOM 2022 Migration, for which we had received a few requests.
When:  Tuesday 27 September 2022 at 4 PM CEST (3 PM BST)
Title: Coffee Break: SCOM 2022 Migration
Speakers: Bob Cornelissen, Bruce Cullen
Description:
Now that SCOM 2022 has been around for a while and has been battle-tested, you might be considering an upgrade!
But, as with all new versions of SCOM depending on what you are upgrading from, this process may not be straightforward; with compatibility matrices, data sanitization, and the choice of in-place vs. migration, it can be a complex and confusing decision.
But don't fear, SCOM-Bob, an industry-renowned expert in monitoring and upgrading SCOM, will be joining us to walk you through the process and share best-practice tips.
We have a landing page here for more information, registration link, or recording link (afterwards):
Webinar: SCOMathon Coffee Break SCOM 2022 Migration | TopQore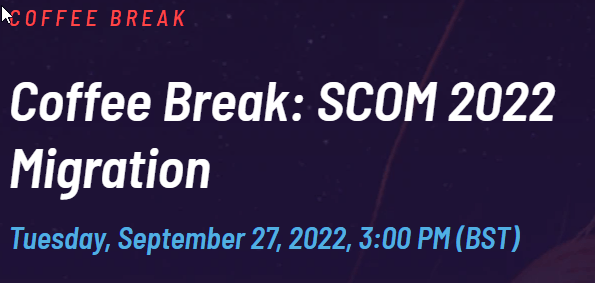 Hope to see you there!
Bob Cornelissen