Funny things this System Center 2012. As you probably know by now Service Pack 1 for System Center 2012 is available for some, but not yet in GA (General availability) status. Expecting that to be soon, and please watch for announcements on the System Center blogs… I really will not tell you anything more than this.
However last night some people found with the WSUS/SCCM updates of this months patch-Tuesday a number of additional updates called something like Update Rollup 1 for Microsoft System Center 2012 SP1 – [product] (KB1111111).
Say what? UR1 for SP1 already? 88|
Yes, it has to do with the quarterly cadence of updates coming from the System Center team. Even though the SP1 is not yet available to everybody, of course the product team is moving forward. 🙂
If you do not see all these updates yet in WSUS and are applicable to you check in your WSUS server settings.
In WSUS go to Options -> Products and Classifications. In the popup scroll down to the System Center products. Here you will see both the System Center 2012 and System Center 2012 SP1 type of product categories.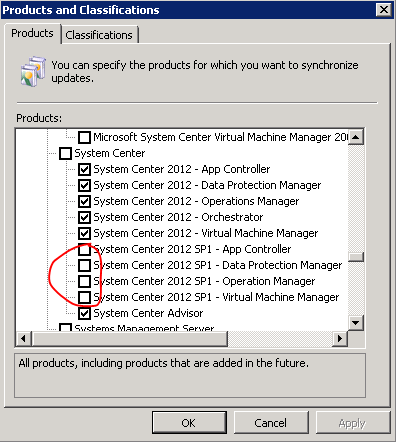 As you see in my case I still needed to select them and synchronize again to get to see all the updates related to SP1 as well.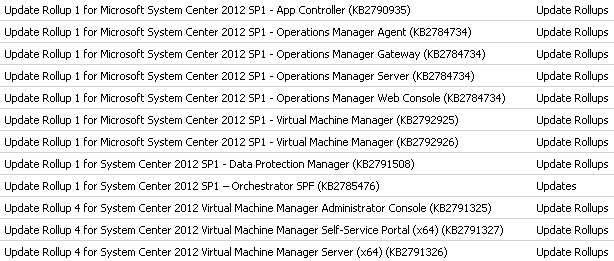 And now we see a list of updates released 8 January 2013 relating to System Center 2012 and up.
The following KB article contains the Description of Update Rollup 1 for System Center 2012 Service Pack 1.
In the Article there are fixes describer for App Controller + DPM + SCOM + SPF + VMM.
Interesting is that it talks about UR1 for VMM 2012 SP1 and in WSUS it shows both that one and UR4 for VMM 2012. Not all links to all the KB articles seem to be active or available yet. Well perhaps its just waiting for a few hours/days more until all the info is up on TechNet.
The article also contains important information on how to install the updates and where to find stuff. Do not think that for all products you simply need to approve stuff in WSUS and be ready with it! As SCOM is still my main thing I will post a note below for SCOM admins. Check in the article for extended notes for SCOM and other products!!!


Note for SCOM admins: After installing the update on management servers, gateways, web console and agents and so on, you need to import the new management packs! These are according to the KB article the following: (By the way, please read further below first before you start clicking on things)…
Microsoft.SystemCenter.DataWarehouse.Library.mpb
Microsoft.SystemCenter.Visualization.Library.mpb
Microsoft.SystemCenter.WebApplicationSolutions.Library.mpb
You can find them in the following location:
%SystemDrive%Program FilesSystem Center 2012 SP1Operations ManagerServerManagement Packs for Update Rollups
However, I found the following two mpb management packs to be present in the mentioned folder (and in my case the folder name did not have SP1 in the path name):
Microsoft.SystemCenter.AlertAttachment.mpb
Microsoft.SystemCenter.IntelliTraceProfiling.mpb
And these also sound more like the mentioned issues actually.
Update 23 January 2013: The KB article seems to have been adjusted. It now mentions to only install the Microsoft.SystemCenter.AlertAttachment.mpb management pack! The IntelliTrace management pack contains a number of dependencies that seem to be as yet impossible to resolve 😉 and I read somewhere that it would actually contain nothing new over the version included in the SP1 bits. So only import the one mpb file!
For UNIX/Linux monitoring there are also updates. You can find them by going to this location: http://www.microsoft.com/en-us/download/details.aspx?id=29696 and download the MSI and guides.
Install the MSI to extract the contents. You will find updated Microsoft.Unix.Library management pack in the Microsoft.Unix.Library2012 SP1 folder and the Microsoft.Process.Library management pack bundle and platform library management packs that are relevant to the Linux or UNIX platforms you are monitoring which you can import.
Good luck updating your System Centers!
Bob Cornelissen