In my lab I was looking at upgrading three SCOM 2012 instances to the SP1 RTM version. Upgrading the ones which already had a pre-release version of the RTM of SP1 turned out to be no work at all, so I was left with the one which was SCOM 2012 UR3 and upgrading that one. Lets see what happened.
First of all the System Requirements from the Supported Configurations page on Technet here http://technet.microsoft.com/en-us/library/jj656654.aspx
Lets see, this computer is running Windows 2008 R2 SP1 and SQL 2008 R2 SP1 and of course has SCOM 2012 with UR3 installed. We should be fine.
I did give the machine a reboot and checked everything came back up again before I went ahead with the installation. Downloaded the SCOM 2012 SP1 ISO file and attached it to the machine.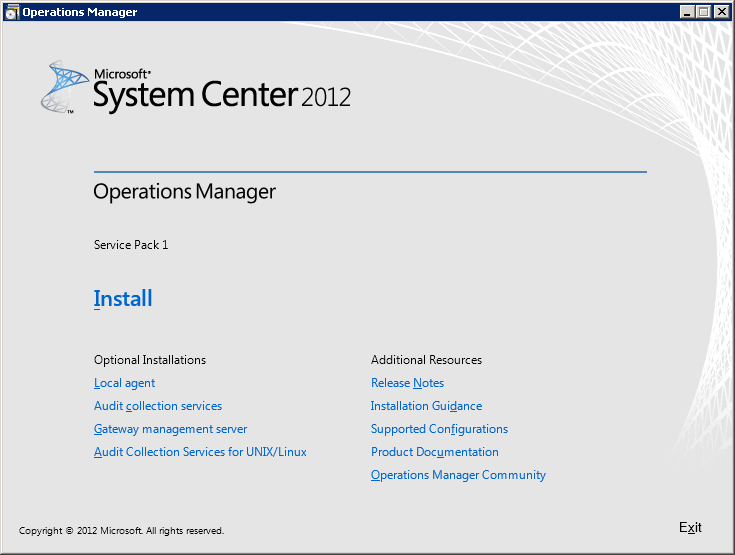 There it is. It says Service Pack 1, so on to the Install link!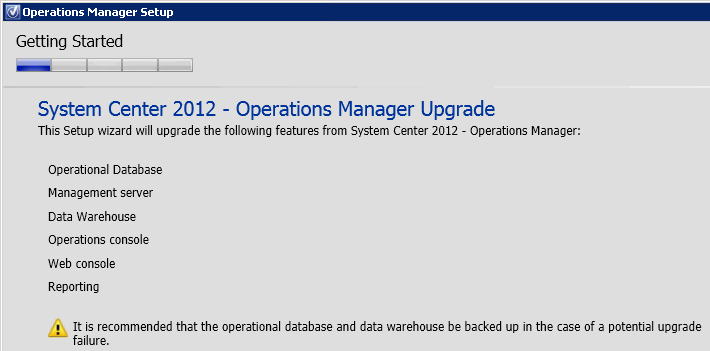 One thing I forgot to say is that this is an all-in-1 installation. So all roles are combined on one machine. It doesn't have that many agents connected to it, so thats fine. As we can see it found the installed components and it wants to upgrade them all. Of course the added tip of first creating a backup of your databases! The next screen asks you to agree to the license terms.



Select installation location. In my case the default installation location is fine, so moving on!
A prerequisite checker starts running which verifies the hardware and software configuration.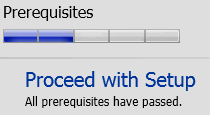 Passed! Next!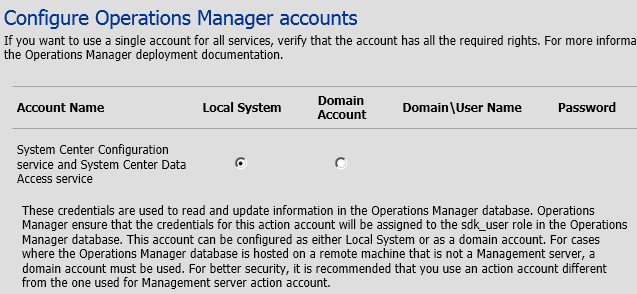 The System Center Configuration service and System Center Data Access service account. You have a choice for Local System or a domain account. If the database is running locally as is the case on my machine you can leave it at Local System. If the databases are remote it required to use a domain account. Because I might move some components out from this machine I will use a domain account anyway and proceed.
The next screen tells me it is ready to upgrade and it shows me again the installation location and config/das account setting I selected.



There it is, the upgrade button. Click!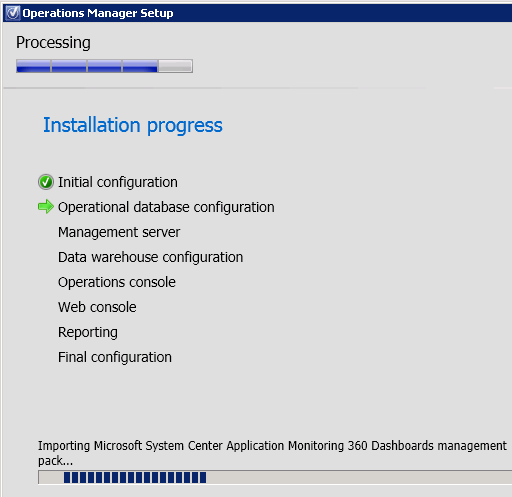 In my case it took a while for it to upgrade all the bits and pieces and there is a progress indication for each. During the Operational Database Configuration phase it also imports a whole lot of management packs, so that takes some time. After upgrade finishes, just close the setup screen.
Start the SCOM console and go to Help -> About.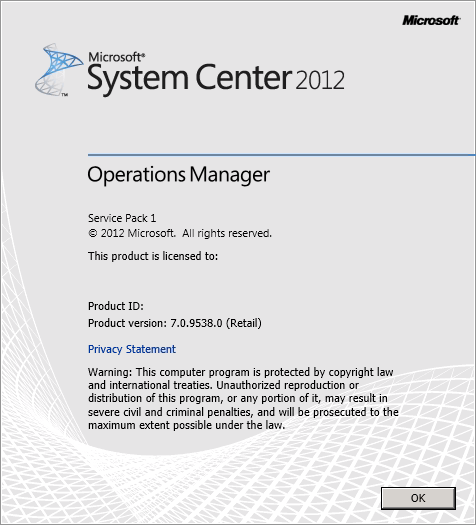 Looking good! Service Pack 1 and of course still activated.
Next up are our good friends the SCOM agents.
Go to the Administration Pane of the SCOM console and open the Pending Management node.



All the agents which were installed through the SCOM console which are manageable by the console are set to Pending Management with the note Agent Requires Update. Right-click them and select Approve. In bigger installations I would it about 30 to 40 at a time. Use the default action account or one you provide yourself and select Upgrade.
In my case all success and one fail. That was a machine which was turned off actually.
Next jump over to the Monitoring Pane, and on the left hand side go to Operations Manager -> Agent Details -> Agents by Version.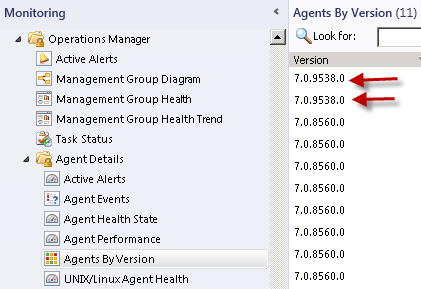 As you can see in this picture the process has started already. The first two have been upgraded and have reported back their new version already. The path list is empty again for the updated agents, because they dont have a patch installed now. Its a full SP1. 😉
Next phase would be looking at management packs. On the installation ISO there is a Management Packs directory where you can select the ones you want/need. The upgrade should have upgraded the management pack you had installed already and for which it had an updated version. It could be that you want more things, like APM, and cross plat monitoring management packs for instance.
Well, all looks nice and well now.
This upgrade was relatively easy to do because the OS and prerequisites were in place already and it was just one upgrade step for the Service Pack. Also an all-in-1 machine is easier to upgrade of course, but generally its all the same story. Upgrade all the components following the same procedures as any SCOM update for SCOM 2012.
Update: One important thing to note is that you have to update the management servers one by one. SO do not even start the wizard on the second management server if your first has not completely finished updating to SP1! See http://blogs.technet.com/b/momteam/archive/2013/01/16/patience-is-a-virtue-with-the-system-center-2012-operations-manager-sp1-installation.aspx in case you were not patient and ran into error messages when opening alerts and such.
I'm done for today. Tomorrow is another day to play with System Center!
Bob Cornelissen