This weekend was a good time to upgrade my DPM server from DPM 2012 with UR3 to DPM 2012 Service Pack 1. I tried to capture the whole process in words and pictures; for anybody who is interested and as a reference when looking back later.
First of all check if the server was running alright. All protection groups in a green status. Nice one! 😀
Next I checked the agents in the Management pane and found that two of them had an update waiting, so I approved the agent update and waited for it to finish. After this step the server and agents were running 4.0.1920.0 of DPM. This is the DPM 2012 UR3 version.
Meanwhile downloaded the SP1 version and because it was an ISO file and a physical server I just extracted the files to local disk before running the upgrade.
So lets see if the software configuration supports the upgrade.
The software requirements are listed here: http://technet.microsoft.com/en-us/library/jj651645.aspx
Windows 2008 R2 SP1 is running here. Good enough. Check.
SQL 2008 R2 SP1 is running on this machine. Good enough. Check.
MS .Net Framework 3.5 SP1. Check.
MS Visual C++ 2008 reditributable. Check.
Powershell 2.0. Check.
Windows Installer 4.5 or up. Having V5 here, check.
Windows Single Instance Store (SIS). Check.
Microsoft Application Error Reporting. Check.
Don't forget that the DPM installer will be able to install or update a few of the prerequisites as well if they are missing or not at the right level. The installation/upgrade process will let you know if it encounters any blocking issues you need to install first. Seems good to go people. Lets rock.
Start SCDPMsetup.exe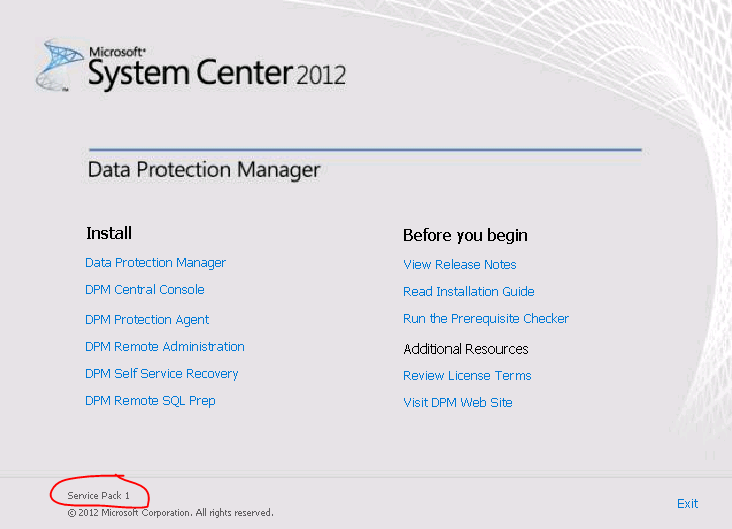 And to be sure this is SP1 we are installing it says so at the bottom of the screen. Just for fun, I first run the prerequisite checker. This takes me to the website with the prerequisites. Well, I was there just before, so lets move on!
Select the Install Data Protection Manager option. Accept the license terms. And wait for the program to unpack itself.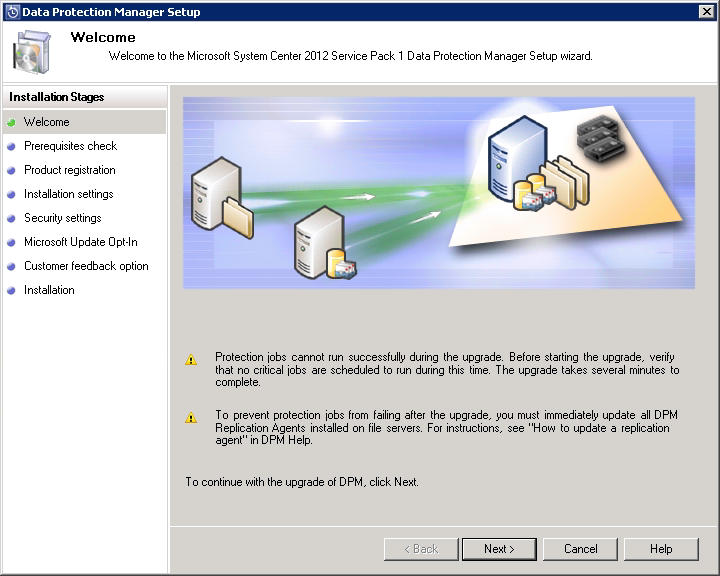 Alright, so now we can see what steps the program will go through. Moving on.



As there already is a SQL instance on the machine I keep the default and click the CHeck and Install button.



Looking good so far. Of course it gives the good advice to backup the database before upgrading. Clicking the Next button.



Enter your product key for your DPM (System Center). In my case the Copy/Paste action of the complete key in one time worked in this field. Saves me typing.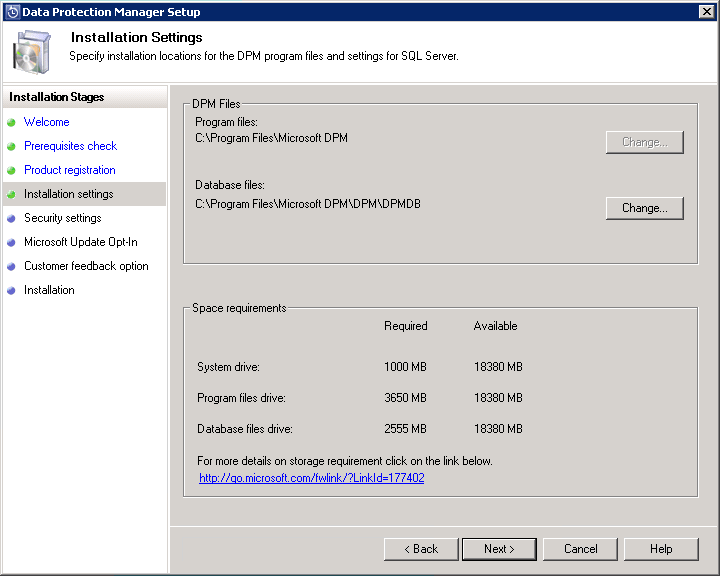 It gives us a chance to change the folders where DPM is installed. Space requirements are all good it seems.



DPM creates a few local user accounts and requests us to provide a strong password for these accounts. So we enter something which it translates to dotdotdotdot again.



In my case it is nice to use Microsoft Update, so I select that one and move on.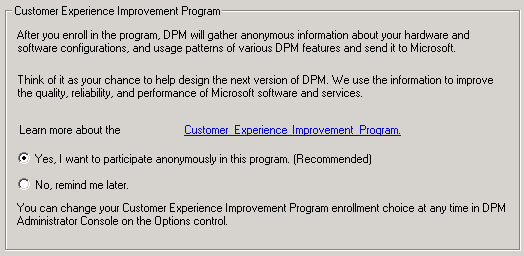 Customer Experience Improvement Program (CEIP). Just select Yes and move forward. This option makes it possible for Microsoft to anonymously receive some base data on the use of DPM, in order to use this in improving the program for future minor and major versions.



There it is, the magic Upgrade button. Lets click it!



Aha, it installs SQL 2008 R2 Service Pack 2 (remember I had SP1 installed?). And after that it will move on to the DPM upgrade. It is time to go to the kitchen and get something to drink as this will take a while. It is not the fastest hardware and things like service packs tend to take a while.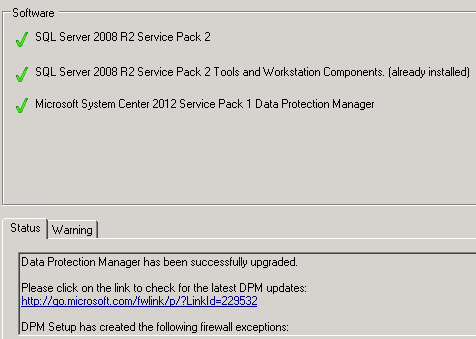 Alright! The server components have been upgraded.
On to the next step, the agents. The warning tab in the screen above states the following:
To prevent protection jobs from failing, you must now update all previously installed DPM Replication Agents. To update Replication Agents, go to the Management task area in DPM Administrator Console.
Closing the screen first popped up the Windows Update screen. After that one was finished its on to the DPM 2012 SP1 icon and open the DPM console.
In the DPM console on the left-hand side go to the Management pane. This will show your agents. In my case it looks like this: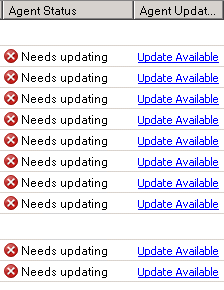 As expected it says there is an agent update available. Until you update these agents there will be errors protecting them as well.
Clicking the Update Available link will give a popup:


So first click Yes to upgrade and we will check the protection state later.



After a while most agents have the 4.1.3313.0 version (= 2012 SP1). There is only one who would like a reboot. Will do that later.
Next I move back to the Protection Pane and find all protection groups have a critical red state. The protection status says: Replica is inconsistent. This was expected, so lets resolve that.
Right click a protection group and select Perform Consistency Check.
All this takes a while. I just select multiple and perform this consistency check and wait for all of them to finish. Plus during the consistency check they al go from red to yellow state, which looks much less dangerous.
In any case, yet another point to eat and drink something, as this takes a while. Slowly there are more and more green Data Source Health states.



I know there are a few slow data sources in here, so seeing this I know things will turn out alright in about an hour. Time to wrap up this blog post.
Update from the next morning: Everything green!
The process of upgrading DPM 2012 UR3 to DPM 2012 SP1 was an easy one as expected, mostly because the hardware and software specs were already sufficient and of course its the smallest version difference for the upgrade (outside of beta versions of course). Good one!
Update March 2013: Around every quarter Microsoft brings an update rollup (UR) for System Center products. In January they released UR1 for SP1, also for DPM. It is recommended that after the update to SP1 you have a look at what Update Rollup is the latest and install it as well.
Bob Cornelissen