A few weeks ago we created a blog post series about SCOM Reporting.
Today we are announcing availability of a free eBook about SCOM Reporting based on that series and some additions in technical content that we have created for you. The book contains all the basic information you need to know to start using SCOM Reporting and to get useful reports from it. It has information about how to save/export/schedule reports for later use and for automatically sending out useful reports to managers or yourself. It contains a section with a number of very useful reports for capacity management, OS management, SCOM health and performance and tuning for use by a diverse set of stakeholders. And we added an additional section about other reporting options, which was not included in a previously published blog post series. Feel free to go to this page to download it.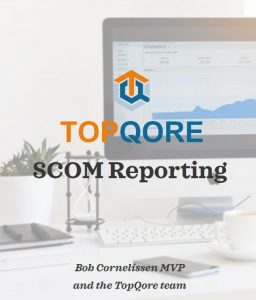 We will also be printing a few hardcopy versions.
The eBook is free for anybody to download through the landing page on our website.
We are also doing a webinar about this topic in a few weeks time.
We hope you like it!
TopQore Team