Many of you are reading this because you are involved with Microsoft monitoring solutions. For several years Microsoft and part of the community have been looking at extending the SCOM functionality with over two decades of management pack know-how to the cloud. You will have heard the code name Aquila used a few times, and from December 2022 we know this is called Azure Monitor SCOM Managed Instance. I am writing to you now to say this product or capability has reached General Availability (GA). You could say this is Microsoft SCOM – but running in the cloud.
There is more to this though – as the full product name suggests!
To support customers who are in all kinds of cloud transition phases (mostly in Hybrid scenarios), we needed monitoring from the cloud as well. We do have Azure Monitor with a lot of capabilities and flexibility for this. However, what many feel is missing is the deep kind of monitoring we have in SCOM for different types of applications running in full VMs. Also, it is difficult to easily re-create this in Azure Monitor. However, what we do not need is a simple lift-and-shift scenario, due to the costs of maintenance and upkeep to name a few.
Azure Monitor SCOM Managed Instance is extending the capabilities of Azure Monitor by providing deep monitoring of machines with applications running both in the cloud and on-premises in your own data center. And it does not just sit there with an Azure Monitor name attached to it, it integrates with it, more and more as features are developed currently. We conserve the management packs and over two decades of monitoring investments, while integrating them with the Azure Monitor set of tooling. This opens up different avenues for dealing with the data coming from SCOM (alerts, performance, events, state/availability, and more).
The second part of the name is Managed Instance. This means that you have much less work looking at the SQL backend, and the Management servers, and updating them (Windows, SQL, SCOM), because those things are managed mostly by Microsoft cloud. This frees up time for you to do other things and the backend is more standardized.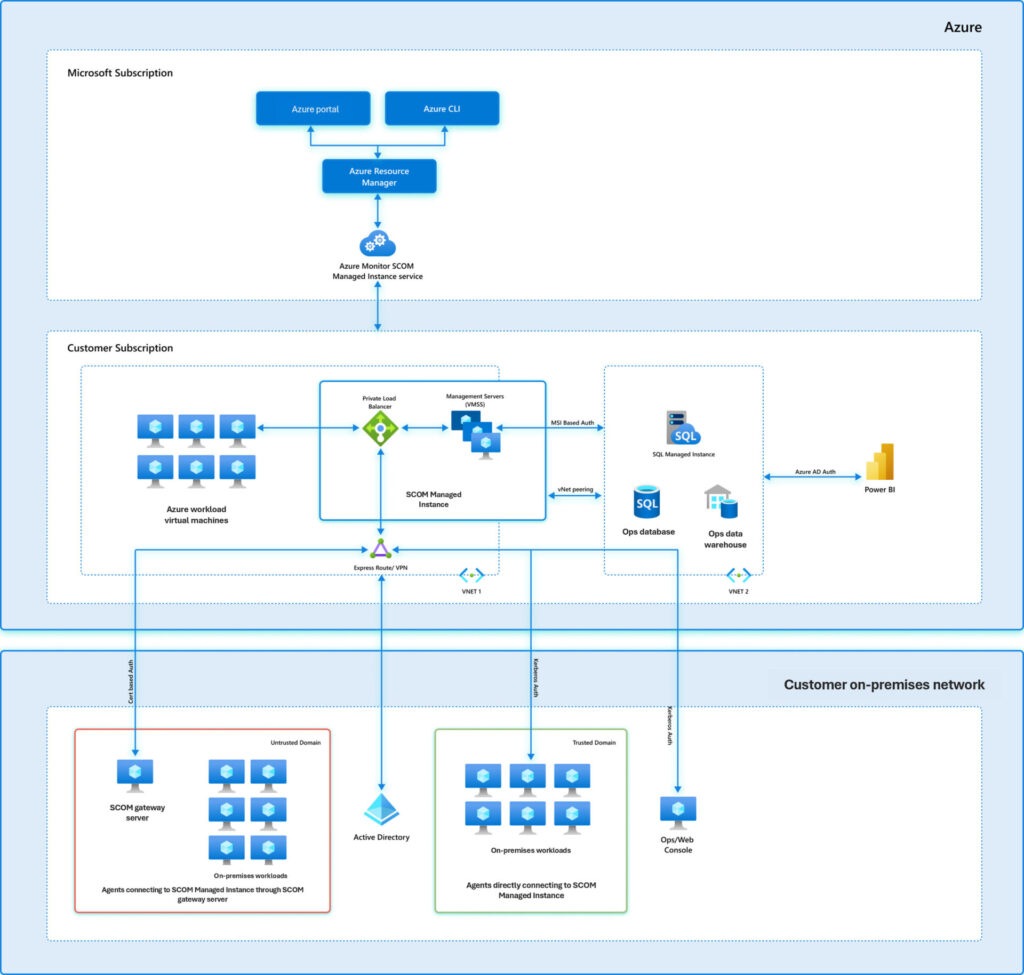 Diagram of Azure Monitor SCOM MI architecture from MSFT website
Some new features in SCOM MI:
Viewing a summary of your instance health (was released before GA) to confirm how the SCOM backend is doing and if there are any unhealthy events.
Azure Monitor Alerts – SCOM alerts are forwarded into Azure Monitor Alerts for handling in the same way as other alerts from Azure Monitor. (was released before GA)
Log Analytics Workspace Connection – This forwards SCOM-generated data of different types into Log Analytics for further processing (queries, workbooks, alerting, reporting). Currently, it is possible to forward Performance, State, Event, and Audit data. (was released recently)
Dashboarding with Grafana – To augment dashboarding capabilities of SCOM data from a cloud portal, while handling the replacement of SCOM Reporting. This is using Azure Managed Grafana, meaning also not having to worry about the maintenance of the backend. This feature is in preview and will have more development going on to provide dashboards and documentation.
Monitored Resources – This is a type of monitored agents view from the Portal, where we can push an agent to either an Azure cloud VM or an Azure Arc managed server (on-prem perhaps), using a VM extension. This view does not show other agents in SCOM. The advantage is that the VM extension is managed and maintained through the cloud / Arc connection. It is possible to add SCOM agents in any methods we are used to as well. This feature is in preview and being developed.
Monitored Gateways – This is also a view from where you can add a SCOM gateway to an Azure cloud VM or Azure Arc managed server using a VM extension and being managed through this view. You can still add a SCOM gateway in the way you were used to, but it will not be automatically maintained from the cloud. This feature is in preview and being developed.
Migration accelerator tool – This is a tool being developed and extended to help you import existing SCOM on-premises settings and configurations (Management packs) with the help of a tool and some resources. This feature is in preview and being developed.
There is a lot more to say about this topic and I invite you to look at the following resources to get more information. Today I will also bring an article discussing more thoroughly all the topics mentioned above and the features mentioned above with some screenshots, it will be linked HERE.
Videos
My keynote at SCOMathon May 2023. I discuss observability and how Microsoft monitoring solutions fit together and integrate in the future.
My SCOM MI session at SCOMathon May 2023. SCOM MI Deep Dive. I discuss what SCOM MI is, the prerequisites, scaling, and the near future.
Microsoft Product Group session at MP University October 2023. Talking about SCOM MI GA and beyond.
My MP University – Inside SCOM Managed Instance session October 2023. This looks at the infrastructure pieces, install process changes and talks about some new features.
Training
As TopQore we provide SCOM training at different levels from Operator to Administrator to Specialist. We also have a specialist training for SCOM MI available right now. The content is adjusted as features arrive. It is 1 day of training to get to know this product deeper than I can do in some blog posts!
Documentation
Microsoft documentation for SCOM Managed Instance starts with this article introducing the features and next steps.
Closing
For several years, since just the idea of a cloud-managed SCOM started to arrive, we have been in weekly (and sometimes daily) conversations with the Microsoft product team about features, possibilities, options, challenges, feedback, priorities, beta testing all versions, teaming up for webinars and content, and enjoying some time together at the Hyderabad campus as well. It is great to see things come together, leading to a GA product, and knowing there is much more in development for this for which we are here to assist as well. Thanking Microsoft Product Group for their great cooperation.
We invite you to come have a chat with us to determine how this and other solutions fit in your vision and strategy for monitoring the resources for your stakeholders and creating value for your company by creating insights and stability for the applications running for your business and clients.